Sarah Woodfine b 1968 (UK)
Studied:
(1) 1988-91. Liverpool School of Art
(2) 1992-95. Royal Academy Schools, London.
…
Windmill. 2005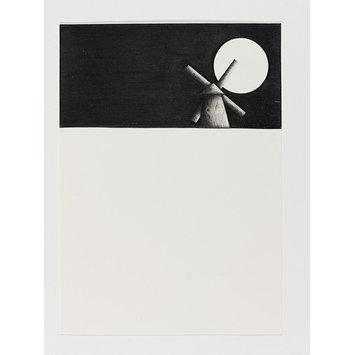 …
Alfred's Story 2
2006
Pencil on paper in perspex box,
22 x 30 x 22 cm
……
1968… and we're now 2017… which makes Sarah… 49.
So, she's an established successful artist winning a major drawing prize in 2004, age 36, which would cement her reputation and prestige in the art world.
How to view her work and use of landscape?
Firstly, all these works seem to be about stillness, the sort of stillness you get on a snowy moonlit night. There's fevered activity (working windmill, suicide/murder or car crime, a camping trip or hunter's tent and a trapper's hut?)… but we view them asleep… resting… silent… bathed in silence.
After the event.
So, for me, the subject matter isn't the landscape. The subject matter is the emotion produced in those rare moments of stillness and aloneness, an antidote to the busy, flashing, colour driven, noisy modern world. And she uses lanscape as a vehicle to drive us to that special place.
Stylistically (or in terms of artistic voice she is unique – though by now will, no doubt, have been copied) she achieves this by pairing down colour to hard black and white – with a little grey. Like early black and white movies her work has a strong visual structure.
And before we saw in colour (in evolutionary terms colour perception is quite recent) we viewed the world in black and white. It has a primal strength.
The lighting is diffused and even… no expressionistic chiaroscuro here, in fact emotion (in terms of passion that might be represented by colour and a riot of form and movement) is paired down to a bare minimum. Just a few simple shapes.
Two are 'sculptureish' in that the 'drawings' are set in a perspex box, a little like a child's 'theatre' or stick in story book where they play with 'elements' on a background and assemble their own story. The other two are represented on a wall on a 2D surface.
I find the narrative and representation elements in the 'sculpture' works detracts from the power of stillness. Multiple details are suggested such as the tent, flowers, canoe, stones by the lake and pitted moon… and there is an impulse to 'explain' or understand the picture.
Whereas with the barn and the windmill I can just accept the stillness.
Interestingly I read a comment that Sarah's work makes a claim for reclassifying the value (socially, in terms of art politics and financially) for different media. That drawing should have equal weight to painting; and pastels, to oil, to acrylic etc. However, for me, her drawings (not the 'constructs') have the same power as a painting, and could indeed be paintings – black and white paintings!
Finally, her work is as stylised and 'unreal' as early Delaunay (I'm thinking of his barges on the Thames) or any of the Fauvists. Only she's gone towards contemplation rather than individual emotionalism.
I really like them…
They have power!!!!